Magicka: Wizard Wars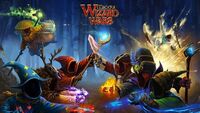 Magicka: Wizard Wars was a sandbox action PvP game developed by Paradox North. Wizard Wars utilizes the humor and dynamic spellcasting system of Magicka, tasking players to form teams of four and blaze their way across the battlefield together. It was released on May 27, 2014.
Wizard Wars is a Free-to-Play Team-based PvP experience, filled with tongue-in-cheek references to popular media and current events. With short rounds and unpredictable strategies, giving a unique tactical depth in every encounter Wizard Wars gives both novice players and experienced MOBA veterans a challenge. It has been killed by Paradox due to low player numbers and is no longer playable, causing many long-time fans to abandon the series.
Minimum
Recommended
CPU
2.4 GHz Dual Core CPU
2.4 GHz Dual Core CPU
RAM
2 GB RAM
4 GB RAM
GPU
512 MB NVIDIA GeForce 9800 / ATI Radeon HD 2600 XT or greater
On-board (integrated) Intel HD 3000/4000 or greater
512 MB NVIDIA GeForce 440 / AMD Radeon 5670 or greater
DirectX
Version 10
Version 10
OS
Windows Vista SP2 or later
Windows Vista SP2 or later
Storage
2 GB available space
2 GB available space
Sound
DirectX compatible sound card
DirectX compatible sound card
Network
Broadband Internet connection
Broadband Internet connection