Thunder Bolt

Element(s)

Casting Method

Boost/Magick
Thunder Bolt is a
Magick
that shoots lightning from the sky. Outdoors only.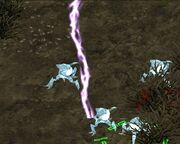 Found in Chapter 3 of Adventure Mode. It's at middle of structure resembling Stonehenge with a dead knight by it. It's almost impossible to miss.
Attributes
Edit
Base damage: 5000 Lightning damage
Single-target
Hits random friend or foe (and extremely rarely, yourself); however, it "prefers" to hit targets in front of the caster.
it prefers to hit taller targets first (including enemies, wizards, barriers, shields...)
Usage Tips
Edit
Soak your target with Steam or Water spells to do double damage. This is also the easiest way to earn the "It's over nine thousand!!!!" achievement.